Composite PREMIUM® offers a large range of colours, finishes and accessories to customize your space. Each range meets specific uses and needs..
HOW TO CHOOSE YOUR DECKING?
The choice of your board is not merely based on appearance. Here are some technical pointers to help your client in his choice:

Our decking boards have a large proportion of wood and are cooler bare feet than other wood composite. The temperature of composite PREMIUM boards in the sun are close to that of exotic wood decking boards.
For the choice of colour, dark colours have the advantage of being less prone to show dirt. For decking or pool deck applications, light colours are cooler bare feet.
Co-extruded decking boards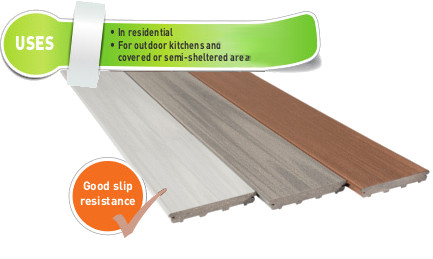 Easy maintenance for this co-extruded
board..
A co-extruded board is a wood composite board protected by a thin polymer material envelope which offers improved resistance to stains and UV rays. The colours remain stable and intense over time and do not suffer from temporary tanning.
Dimensions (mm): 150 x 21 x 3000.
3 colours available: light grey, mouse grey, chocolate brown.
This finishing strip conceals the edges of the boards and will complete your decking..
Special stainless steel composite screws secure the finishing fascia boards..
Dimensions (mm): 70 x 20 x 2000.
Assorted colours and finishes for decking boards.
Black stainless steel clips
Clips secure the boards to the bearers..
Clips are sold with stainless steel clips in buckets containing 158 units (140 central clips and 18 start and end clips).
It joins several board corners on a single bearer with a single clip..
Butting clips are sold in bags of 10 clips with stainless steel screws.
The boards must rest on bearers for ventilation and drainage of water or snow. Wood composite bearers must stand on a concrete slab.
Dimensions (mm): 50 x 50 x 2400.
Colour: brown.
It is also possible to use tropical wood or class 4 treated pine bearers.
Special stainless steel composite screws
There are various coloured screws for use with the range of decking boards. These screws secure the boards to the surroundings of the decking and the finishing fascia boards.
Dimensions 5 x 50 mm.
Box of 150 screws.
Colours: dark brown and anthracite grey.